You're About to Drastically Improve Your Memory
Upgrade your memory in 15 min/week with a whole new award-winning gamified app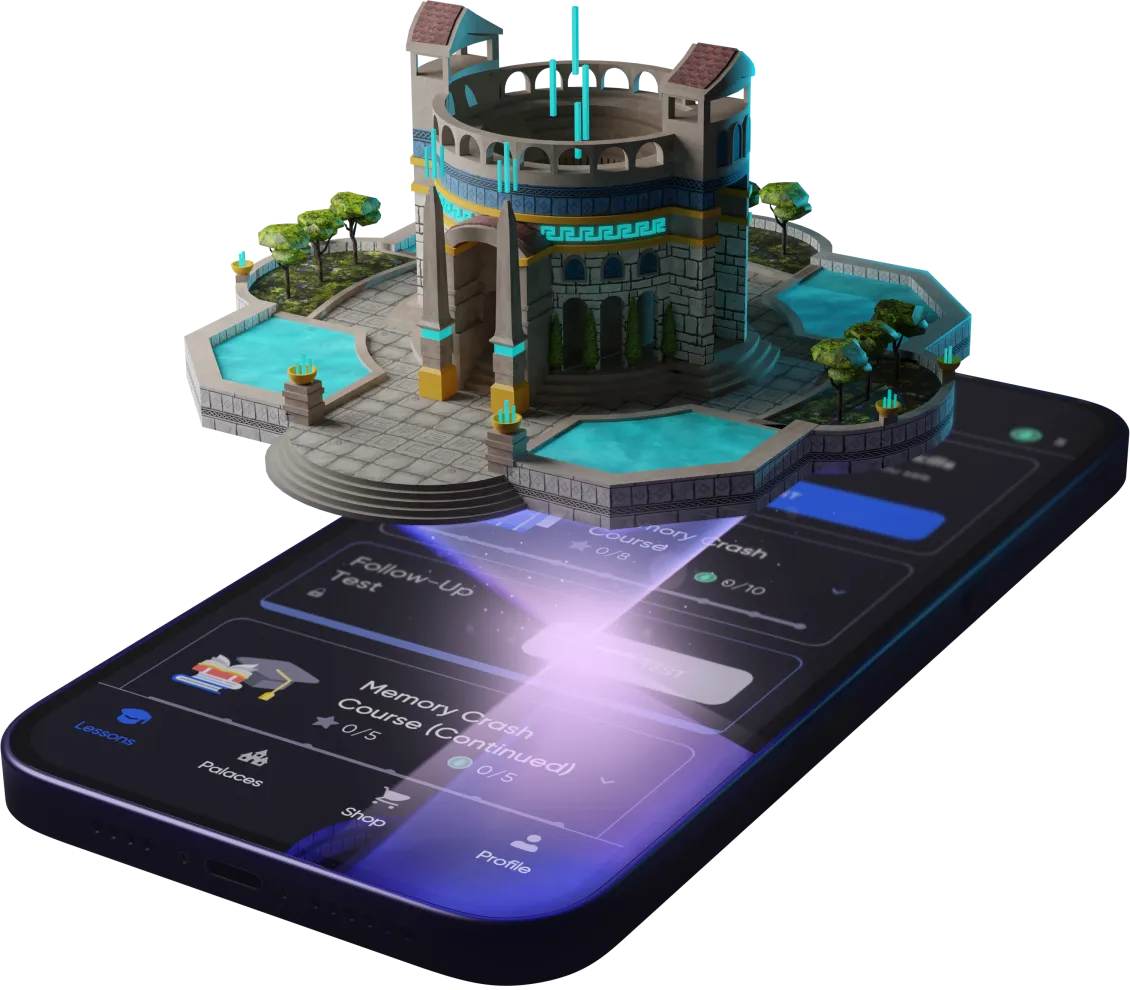 World Memory Champion Lecturer
Virtual Mind palace technology
Join the rest of our 60,000+ Early Adopters
Who on average saw an increase of +70% in memory recall
Exclusive Release: 500 Lifetime Accounts
 on January 1st, 2024
Register your Interest
Enhance your memory with the #1 memory app without recurring fees. Register today for our exclusive holiday offer!
Enormous Memory
Tremendously increase memory capacity with the option to add on.
Structured Information
Information is organized and structured into your mind.
Instant Recall
Dazzling ability to remember things really fast and effortlessly
High Confidence
Certainty that needed information is remembered and can be recalled
SCORE 14 out of 15
TIME 01:40 minutes
Sharp Memory is a Skill
That Can be Developed
memoryOS helps you remember important information. Improve your memory skills in a fun and engaging way based on science.
Educational Game of
Virtual Mind Palaces
Virtual storage folders for your brain.
Play, learn and use them to keep needed
information in perfect order.
Time-Tested and Scientifically Proven Methods
Mnemonics
Techniques for effortlessly storing and recalling essential information.
Spaced repetition
A proven, effective method to learn in the way your brain works.
120+ gamified
micro-Lessons
Modern eLearning for Cutting-Edge Results
Microlearning
Fun & bite-sized lessons that develop your memory superpowers.
Gamification
Our gamified microlessons provide 
an exciting and easy learning journey.
Your Grandmaster
who perfected his memory
Jonas went from struggling to remember simple things to becoming a legend
Two Times World Memory Champion
Won "The Brain" TV show in China
Won "Who Wants to be a Millionaire"
Won "The Wall" TV show in Sweden
Memorized the first 100,000 Pi digits
Won "Are You Smarter Than a 5th Grader"
Exclusive Release: 500 Lifetime Accounts
 on January 1st, 2024
Register your Interest
Enhance your memory with the #1 memory app without recurring fees. Register today for our exclusive holiday offer!
What you get with memoryOS
Scientifically proven and time-tested methods that got digitized
Combined with new proprietary virtual Mind Palace technology
World Memory Champion guidance throughout your gamified learning path
Library of HD virtual Mind Palaces to serve as your mind storage space
Exclusive access to our Early Adopters private group
📂 850+ loci for mind storage space
🎓 130+ interactive micro-lessons
🧠 28 lifelong memory skills
⏱️ Spaced repetition mechanics
🏰 Pre-made HD virtual Mind Palaces
You will learn how to memorize:
📃 Lists of items
👤 Personal facts
🧠 Study techniques
📜 Study material
📖 General Knowledge
🗝 Passwords
🧪 Periodic table
⏳ Historical timeline
🗺 Countries and Capitals
💀 Anatomy
📅 Dates of significant events
🏁 Flags
🗓 Keeping track of the years
🎂 Birthdays
🎙 Long speeches
🥸 Names
🔢 Long sequences of numbers
📊 Complex data structures
💾 Binary digits
🖼 Art
💯 Numbers
🔤 Vocabulary and phrases
🏎 Speed memorization
💡 Concepts and figures
♣️ Memorizing decks of cards
📚 Content of complete books
🤯 Advanced study techniques
🧮 More advanced number systems
People love
the memoryOS app
60,000+ Early Adopters highly rated memoryOS
Team made a fantastic app to put memory learning into practice where no one has done before. You'll love it!
Jabril
Amazing! A fun gamified way of teaching very valuable techniques in a way that is much more engaging. Truly brilliant!
Linda
Jonas is a world memory champion AND also an excellent teacher who teaches in a step-by-step manner. A++++
Sanjoy
Seriously Awesome App! I am an original Kickstarter supporter and started with the original beta version and I still recall the info I learnt almost 1 year ago. I am seriously impressed as an over-50-year-old man. I wish there was a 6 Star to give.
Paiken66
Unlike the others I have used. This app teaches me how to make connections and remember them. It blows my mind the things I have learned and been able to recall. I have had good neuro exercises with other apps, but this is on a level unto itself. Worth the subscription!
Brotha_One
This app deserves a lot more success. You guys have done impressive work, you have my respect and love.
DaichiYosuke
Amazing journey to learn to memorize. Entertaining and intuitive. Very addictive.
Julio
Best app for memory. Please add new languages in the future for everyone to enjoy it!
Louis
Oh, this definitely works!
Bob Philips
We need more apps like this and less useless games trying to use our neural system to get money abusing, using dopamine-focused techniques.
Mysterious Boj
Incredibly well-done app. Can wholeheartedly recommend it!
Korwin
Been using this app for 7 days.. Amazing so far.. Really loved this app.. My memorising has improved a lot
Md Saifullah
Video Reviews
Start Improving Your
Memory Now
Our Mission is to Make Having Excellent
Learning & Memory Skills the New Norm